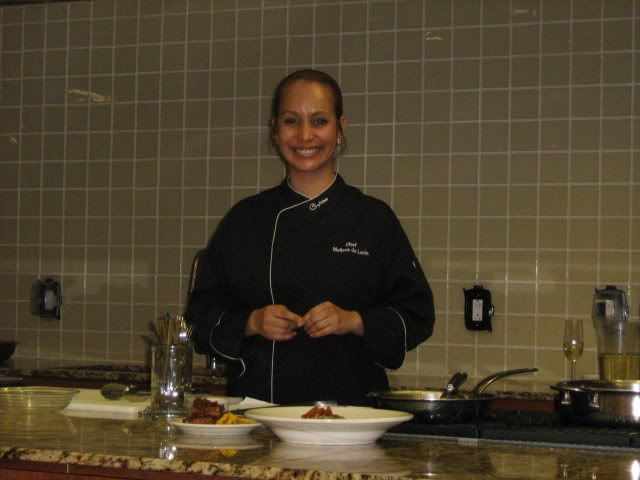 My newfound love of the cuisine of Panama had me thrilled to no end that I was scheduled for a class with
Chef Melissa De Leon
at Whole Foods Market Culinary Center. Quick thank you to Chel, who knew I'd love it when she gave me a fat WF gift card for my 40th back in July. Birthday month extended all the way to September is the way to go, most assuredly.
It was a girls night out with Chel, Christine, Rockett and I meeting up at the cheese counter in WF for pre-class vino and lots of it. Sufficiently relaxed and ready to soak up our lesson, we headed down to the culinary center and grabbed front row seats. We were ready to become teacher's pets.
First up on the menu, platacones with salsa chimichurri. I was intrigued with the platacones (plantains) because I'd never tasted them before. Chef Melissa explained that we were using the completely green platacones because the ones that are yellow and green are sweeter. We wanted savory platacones for this appetizer. After peeling, she chopped the platacone into inch thick rounds and transferred them to a frying pan holding medium hot oil until they were golden brown.
Chef Melissa explained that most cooks then press the hot platacone into a round disk by using the bottom of a clean bottle. She demonstrated this and used a knife to carefully slide the platacone disk off the bottle. Others may use a wooden press that forms the wedges into tiny cups. She did both, and returned the platacones to the oil to fry again. Meanwhile, WF staff brought out the finished product to us to enjoy. The crispy cup was filled with chimichurri salsa, a garlicky delight.
I'd never tasted chimichurri but now that I have you can bet I'll be eating it often. Chimichurri is usually made with parsley as the primary herb but the Chef substituted half of the called for amount with cilantro. The result was a chimichurri tailored for the Tex Mex palate. The lime, garlic and onion in the salsa claimed just the right sassiness for the mild platacones. The cups, Chef Melissa explained, could be filled with any number of foods such as ceviche. I'm thinking they'd be great for guacamole, sour cream or spinach dip. Pico de gallo holders! A handy little dollop of raspberry chipotle dipping sauce in an edible cup.
Platacones devoured and our glasses of champagne half gone, we moved on to crab cakes. Chef Melissa kept the cakes simple, mostly crab meat with a bit of shredded coconut and a few other ingredients. She pan grilled them with a bit of oil until both sides were browned. Panama, she explained, means 'an abundance of fish' and it's less than hour from the Pacific coast to the Carribbean coast.
As she was chatting, she was slicing mango and chili peppers for a mango salsa. The sweetness of the mango pairs well with the heat of the peppers. The crab cakes were topped with a tomato chutney, mango salsa on the side. The chutney was deeply flavored, with fenugreek and cumin seeds browned in olive oil along with Roma tomatoes. An incredible plate of food, with the tomatoes a rich brown color after carmelizing in the spiced oil. Perfection with a glass of white wine!

Dessert was a lucious coconut and chocolate flan. I've never been a huge fan of flan. It always seems too delicately flavored for me and really, eating an almost tasteless chilled jellyish cream isn't my favorite. This flan is the mother of all flans. It is the alpha to omega of flan. It is a tidal wave of flavor in one tiny little bite. I didn't get a picture because it disappeared off my plate too fast. It was divine with the tiny cup of Panamanian coffee we were served.
Our evening even had entertainment. Local dancers with a Panamanian troupe visited, showing off the elaborate dress costumes that are painstakingly hand made.
Delicious foods, delightful friends and a cooking diva. It was a fantastic evening. We exchanged promises to keep in touch with Chef Melissa, to visit Panama and to plan a girls night out the next time she is in the states. I'm certain
Panama Boutique
can help us plan the perfect trip once they kick off their cooking tours in the Spring.