Tattoos have always intrigued me with their vibrancy and unique designs. I'm far too indecisive to ever have permanent body art but longed for a way to decorate my body. I was thrilled when I discovered henna. Austin native and local henna artist Megan Sela helped me achieve my goal of a feminine and exotic looking temporary creation which is still bold enough to satisfy my inner biker chick.
Henna, also called mehndi, is an all natural auburn dye. Mehndi artists utilize dry henna powder mixed with sugar and natural acid, usually either lemon or lime juice. Many artists will add essential oils and liquids with natural tannins such as coffee or wine while others will use spices like whole cloves and black peppercorns. It's the artists' personal decision what to use, much like a practiced cook will add their own touches to even the most basic chocolate chip cookie recipe. Megan mixes her henna with tea tree, eucalyptus and lavender oils for a wonderful scent and to help the stain turn a darker, deeper color.
Since henna tattoing has been documented as far back as the Bronze Age, it's obviously a classic and popular form of body decoration. The intricate designs resemble lacey embroidery, with swirls and flowers predominant in traditional patterns. The designs sometimes reflect cultural beliefs, blessings and wishes but in my case they are simply very pretty art, a fun way for me to be expressive with my body.
My henna session was all about relaxation and art on a beautiful day outdoors. Megan welcomed me and gave a brief explanation of henna tattooing and care before starting on my artwork. I'd chosen to have henna done on my feet and should've had a pedicure a day or two before, but at least my nail polish was fairly fresh.
Megan shared with me that she's found much satisfaction in hearing why a person wants mehndi, and with over six years of temporary tattooing she's heard all kinds of stories. I explained my desire for a way to decorate my body that would not result in buyer's remorse years down the road. Megan brought along pictures of her work and design books and I admired the beauty of henna designs while she started on my feet.
The fragrance of the henna paste spiraled up on the breeze, adding to my sense of wellbeing and comfort. The essential oils used in the paste are basics in relaxation aromatherapy. In no time at all I was stress free and enjoying the whispery wet feel of the paste being applied.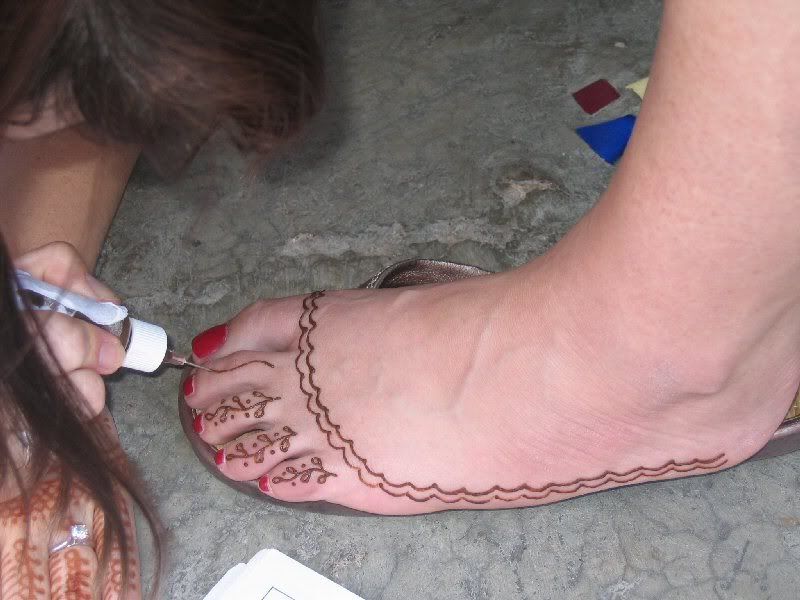 Megan mentioned she'd henna tattooed the bellies of pregnant women, a safe process since the dye is all natural. I think if I was a heavily pregnant woman there isn't much that would make me feel beautiful outside of a delicately lovely henna design. Middle Eastern women have been decorating their pregnant bellies with henna designs for ages, in hopes of bringing good luck and safe passage to the babies they are carrying while also celebrating the changes in their bodies.
The process was unhurried and allowed ample time to enjoy the session. Once Megan had the design finished on one foot, she started on the other. The henna was beginning to dry to a milk chocolate color when she had completed both feet. She dampened the paste with a mix of sugar and lemon that looked quite a bit like watery honey. The paste instantly darkened with the sugar mix application, a magical process that was striking to watch.
Henna darkens over time and the longer you wear the paste the deeper the color becomes. I went barefoot the rest of the day, at bedtime removing what paste hadn't flaked off naturally with a little olive oil. Our skin's ability to naturally exfoliate will cause the design to wear off in time. Most henna tattoos will last a week or more, depending upon your skin type, the location of your tattoo and other variables, such as additives to the powder. The next morning my feet wore a gorgeous reddish-brown design.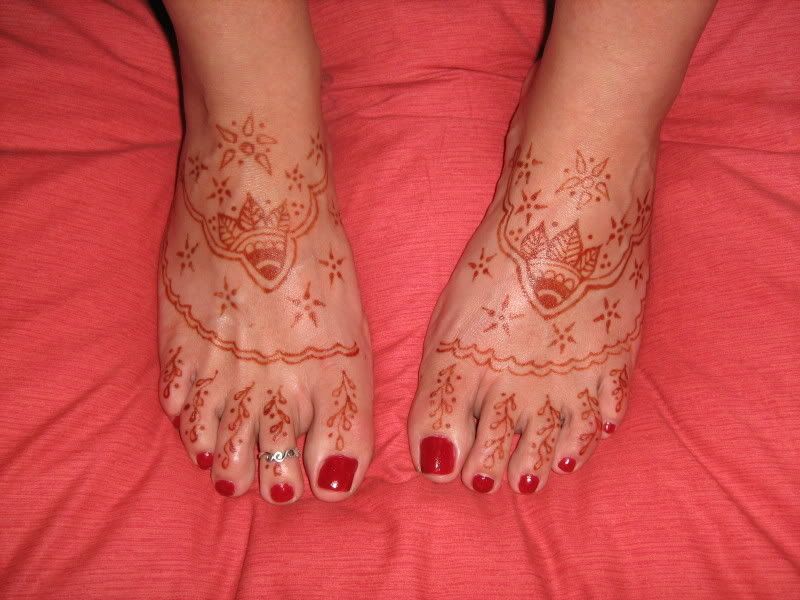 My design lasted until the cooler temps have forced me to wear shoes that cover my feet. The friction of socks and shoe have rubbed off much of the color, as I expected. Megan, who does her artwork part-time, is luckily easy to schedule with and I'm certain I'll do it again soon. To contact Megan, visit her online at
Sela Design
. She's recently begun offering henna designs on clothing as well, a venture I'll be checking out as well.